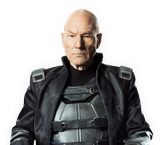 Charles Xavier
is a character in the
X-Men
films.
Charles Xavier was born in 1932.At the age of 12 he meets Raven Darkholme and they become friends.He is delighted to meet someone else "different".He lets her stay at his house as his parents accept her like a daughter.He meets Erik Lehnsherr and become friends.He then makes his own team of mutants.In 2000 he meets Logan and he becomes a member of Xavier's team, the X-Men.After Jean Grey's death she is ressurected.Xavier tells Logan that her powers saved her.Jean becomes evil and Logan is forced to kill her.After Logan goes back in time.Jean, her fiancee Scott, Henry McCoy and Rogue are alive again.
Ad blocker interference detected!
Wikia is a free-to-use site that makes money from advertising. We have a modified experience for viewers using ad blockers

Wikia is not accessible if you've made further modifications. Remove the custom ad blocker rule(s) and the page will load as expected.